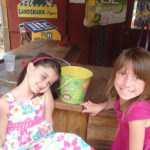 We hope you and your family enjoy a Happy and Blessed Easter. Crown King's Easter Sunday celebrations began at 6am at Vista Point on the Crown King Road. Pastor, Tony Nelson, presided over the Easter Services with a spectacular sunrise behind him. Tony, the Pastor of the Crown King Community Church, led the congregation in [...]
Continue Reading

→
The Crown King Saloon hosted its Annual Spring Chili Cook-Off on Saturday, April 12th. This year's contestants brought out a variety of unique and tasty pots of chili for the guests to sample. Judging was performed by eight tasters, who all agreed they had a hard time choosing the winner.
Continue Reading

→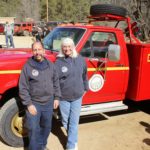 Chief Steve Lombardo was recently caught on camera receiving a huge surprise from some of the local CK residents. While Channel 12′s camera crew was there to capture the moment, the new support vehicle rolled into town. Here is how it all went down according to Kurt Larson, the ringleader of this extreme make-over.
[...]
Continue Reading

→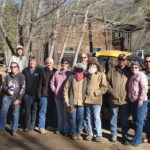 What do you do when it's a cool Monday morning in January?? Why you call all your friends and arrange to clean up the Crown King Road, of course! That's precisely what this group of local Crown Kingers did just after the New Year. Equipped with gloves, garbage bags, plastic totes and ladders, the group [...]
Continue Reading

→
Gerry & Sandy, owners of the Crown King General Store, prepared a delicious New Year's Prime Rib Feast at the Crown King Saloon. Locals and Cabin Owners were treated to one delicious dinner! Gerry was busy in the Cafe creating his masterpiece while Sandy, Shelly & Kyle served the guests with a smile. JoAnne VanCleave [...]
Continue Reading

→
Santa's arrival was 'First Class' in Crown King Fire Department's Sleigh. Actually, it is the Gator that you see our Fire Fighters driving up and down the mountain roads helping to keep our forest community safe from fires. Thanks to Chief Lombardo and his Crew for helping make this year's Parade of Lights so much [...]
Continue Reading

→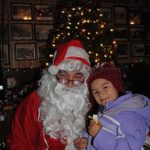 The Crown King Fire Department invites you to join them at their Annual Soup Kitchen & Christmas Cheer Open House on Dec 7th at 5PM till ??? Enjoy free soup, chili, goodies & hot beverages before the Christmas Light Parade. After the light parade, stop by the CK [...]
Continue Reading

→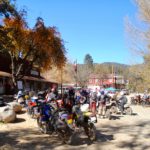 Good Food and Fun Trails!
October 26th, 2013 was the Annual 'Howlin' at the Moon' trail ride for over 220 motorcycle trail riding enthusiasts. For the third time in the past five years, the Arizona Trail Riders selected Crown King for their lunch destination. The Crown King Fire Department furnished [...]
Continue Reading

→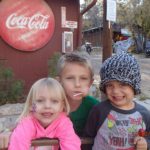 APPLE FESTIVAL WAS THE BEST EVER!
Thanks to the Crown King Historical Society and this year's Committee Chairwoman, Tammy Sidles, the 2013 Apple Festival was Awesome! The day started off with an Apple Pancake breakfast at Megan's Doozy's Bakery, including her newest creation of apple bacon pancakes [...]
Continue Reading

→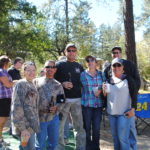 They Are Keeping Things Heated Up at the Historic Crown King Saloon!
Saturday, October 5th, The 29th Annual Fall Chili Cook-Off was hosted by the Crown King Saloon. This year the entries were exceptional and the crowd was fired up! Judging this year's chili contestants was harder than ever. Thanks to [...]
Continue Reading

→
Click Image to Order Your Fudge!!

Real Estate

Weather

Weather for Crown King
Today
Thursday
Friday

Clear

79°/48°

Clear

82°/50°

Partly Cloudy

81°/55°

Sign Up For Email List

Arizona Emergency Bulletin System

Scroll to find info on Gladiator Fire